AAUA Undergraduate Admission Form 2022/2023
Adekunle Ajasin University, Akungba-Akoko, AAUA undergraduate program admission form for the 2022/2023 academic session.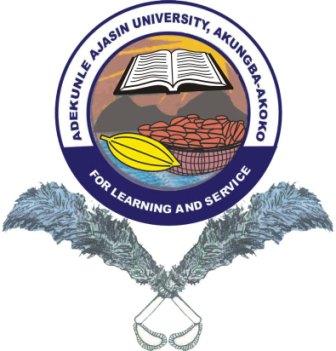 The Center for Diploma and Undergraduate Studies of the Adekunle Ajasin University, Akungba-Akoko (AAUA) invites suitably qualified candidates to its 2022/2023 academic session undergraduate programmes.
Before proceeding, review AAUA Pre-Degree Available Programs Requirements.
AAUA Undergraduate Admission Important Information
Admission to 100 level from Pre degree is not automatic.
Undergraduate candidates must take the 2023 UTME and achieve the minimum pass mark of UTME for University and as agreed by the University.
Admission of candidates will depend on their weighted average in the two semesters, the UTME score and their ranking in relation to the cut-off marks for the chosen courses.
Any candidate who has not met all of the above conditions and still pays school fees into the university's account will forfeit such funds.
How to Apply for AAUA Undergraduate Admission Form
Open an account
Make a payment. The procedure for making payment is as follows:

Sign in to your account.
Go to Payment Method
Click on generate an invoice (RRR number).
Take the generated invoice to the bank and pay ONLY with the RRR number on REMITA PLATFORM.

After payment @ the bank and obtain a payment receipt from the teller, Login to your account to confirm the payment, after that you can be allowed to fill the application form.
After successful login and payment, please fill the form accordingly, upload your recent passport photograph and click on the appropriate buttons.
Make sure to print your acknowledgment and wait for SMS for your admission information soon.
MAKE SURE YOU SIGN OFF YOUR APPLICATION WHEN YOU ARE DONE.
NO APPLICANT SHOULD COME TO AKUGBA FOR SUBMISSION OF HARD COPY/PHYSICAL FORM. WHEN YOU SUBMIT ONLINE, IT'S DONE. BE WARNED.
DEADLINE: Not specified.
NOTE: For further enquiries, please contact Pre-Degree Support Team through the email address: pdsenqui[email protected] or call: 08067646215; 08034025568; 08054326690.
Share this post: If you think this post might be helpful to someone else, please share it using the buttons below!